A better blog than this one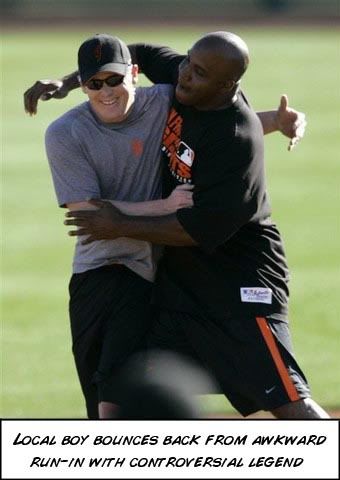 Why am I going on about this? Because, driving home from a difficult day at work, I was thoroughly enjoying the first half of the Giants game. Barry Zito got through 5 scoreless innings; Bowker homered for the first time since April 20; and Omar and Fred Lewis doubled home runs. I was thinking "This is how it used to be for all those years; if the Giants played at home, we fans knew they had a pretty good shot of winning."
Awesome story for the local boy. The former backup to Justin Knoedler in Single-A San Jose has looked the part in the majors coming off an improbable upset in an open battle for the backup job in spring training. On the other hand, Jose Castillo celebrated the return of Pedro Feliz by doing his best impression, hitting into 3 double plays (two on the first pitch and two with the bases loaded) before lining a triple in a completely no-pressure situation leading off the eighth. (Unsurprisingly, he was subsequently stranded by Vizquel, Aurilia and Lewis). His struggles epitomize the Giants biggest downfall so far this season: not cashing in on baserunners. Team batting with RISP? .237.Dirty continues to struggle as he allows three in a very wild 4.1 IPs. Also troubling: Sanchez's inability to control his emotions - a good example being his failure to cover first on a helluva diving play by John Bowker.